Rise & Shine – it's mutant butt kicking time!
Cowabunga civilians, the Ninja Turtles have risen and NEWS FLASH - it's a total pepperoni fest!
ICYMI - Nickelodeon has been busy underground reimagining the world famous Teenage Mutant Ninja Turtles into a brand spankin' new series that will excite your eyeballs --Rise of the Teenage Mutant Ninja Turtles
If you're a fan of the existing TMNT series, don't worry – all the best bits remain. If you're new to the show, strap in and prepare yourself for villain butt kicking, psycho acrobatics and cheeeesy pizza!

Rise of the Teenage Mutant Ninja Turtles is set in the sewers of New York City, and follows the action packed adventures of mutant Turtle brothers Leonardo, Raphael, Donatello and Michelangelo as they take down mutated villains, perfect the art of ninjitsu and discover new mystic powers they never knew they had!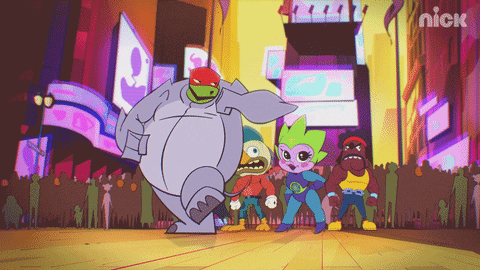 While Leo, Raph, Donnie and Mikey all have the same personality traits, each brother is a different Turtle species which makes them look totally different to anything you've seen before.
The boys have new weapons which they have no idea how to use (!) and along the way they discover they have new mystic powers too. There's also a whole load of new villains threatening to destroy the world!
The reimagined series is back to basics adopting a traditional 2-D animation style where literally every pose is hand drawn. Another awesome fact - the animation for the series was done right here in Australia by Sydney based animation company Flying Bark, take a behind the scenes look at the animation process in the vid below!
Think you can handle all that action?!
Watch the latest episodes NOW on Nick Play. And if you feel the need to kick mutant butt yourself, check out the brand new game – Rise of the Teenage Mutant Ninja Turtles City Showdown!